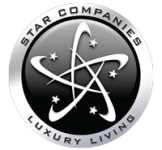 StarFloors prides itself on providing the ultimate flooring experience for our clients. We've built our reputation on dependability, fair pricing, superior materials and workmanship. Our Account Managers are local experts who know your housing market, the dynamics of your region and the latest design trends. With StarFloors, customer service always comes first! We ask each client to complete our online customer survey at the conclusion of every project and use the information to continually improve our products and services.
StarFloors has served as one of the largest floor covering companies in the United States. StarFloors specializes in providing materials, design, and installation for residential homes, multi-family, senior living, and country clubs. StarFloors is the primary flooring provider for some of the nation's largest REO property holders and has been a preferred vendor for over 25 years.
StarFloors is a family-owned business and customer service is our top priority. Our distinctive business model and nationwide buying power allow StarFloors to provide competitive pricing with a broad range of quality flooring materials and installation services. As part of the Star Companies, we can provide almost everything you need for your home or business.
Visit StarFloors

Starpower is the premier provider of consumer and commercial electronics, audio, video, security, electronic automation and custom leather and more. Starpower is a leader in the industry by offering the most exclusive technologies available and by providing award winning customer service and installation.
Visit Starpower

Ed Kellum & Son since 1948 has been a highly recognized name for home electronics and household appliances. Ed Kellum & Sons' 4-Hour Delivery provides clients with the utmost in customer service and installation.
Visit Ed Kellum & Son
Star Interior Resources offers complete custom interior renovations from design to build out. Star Interior Resources specializes in kitchen and bath remodels including cabinetry, lighting, trim work, dry/wet bars, stone counter-tops, painting and more.
Visit Star Interior Resources